The Option Trader's Toolkit
Trade smarter with the best visualization and analysis tools available.
Start Free Trial
Predict your Strategy
Use the strategy builder to calculate and visualize the expected profit and loss of over 50 pre-made strategies. Or, create your own strategy by selecting various option strikes and expirations.
Optimize an Idea
Use the options optimizer to find the best trades for a given target price and date. The strategies are ranked by best return or best chance.
View Unusual Trades
Follow the smart money by watching large and unusual trades as they are made. Our options flow uncovers complex trades you can't find anywhere else.
OptionStrat is the next-generation options profit calculator and flow analyzer. Through continual monitoring and analysis, OptionStrat uncovers high-profit-potential trades you can't find anywhere else — giving you unmatched insight into what the big players are buying and selling right now.
What our traders say:
OptionStrat is awesome. I love the concept, the interface, the upgrade price, ALL GREAT! This app has taught more in the little time I have used it than the 6 months i've been on WeBull and RH!! THANKS!!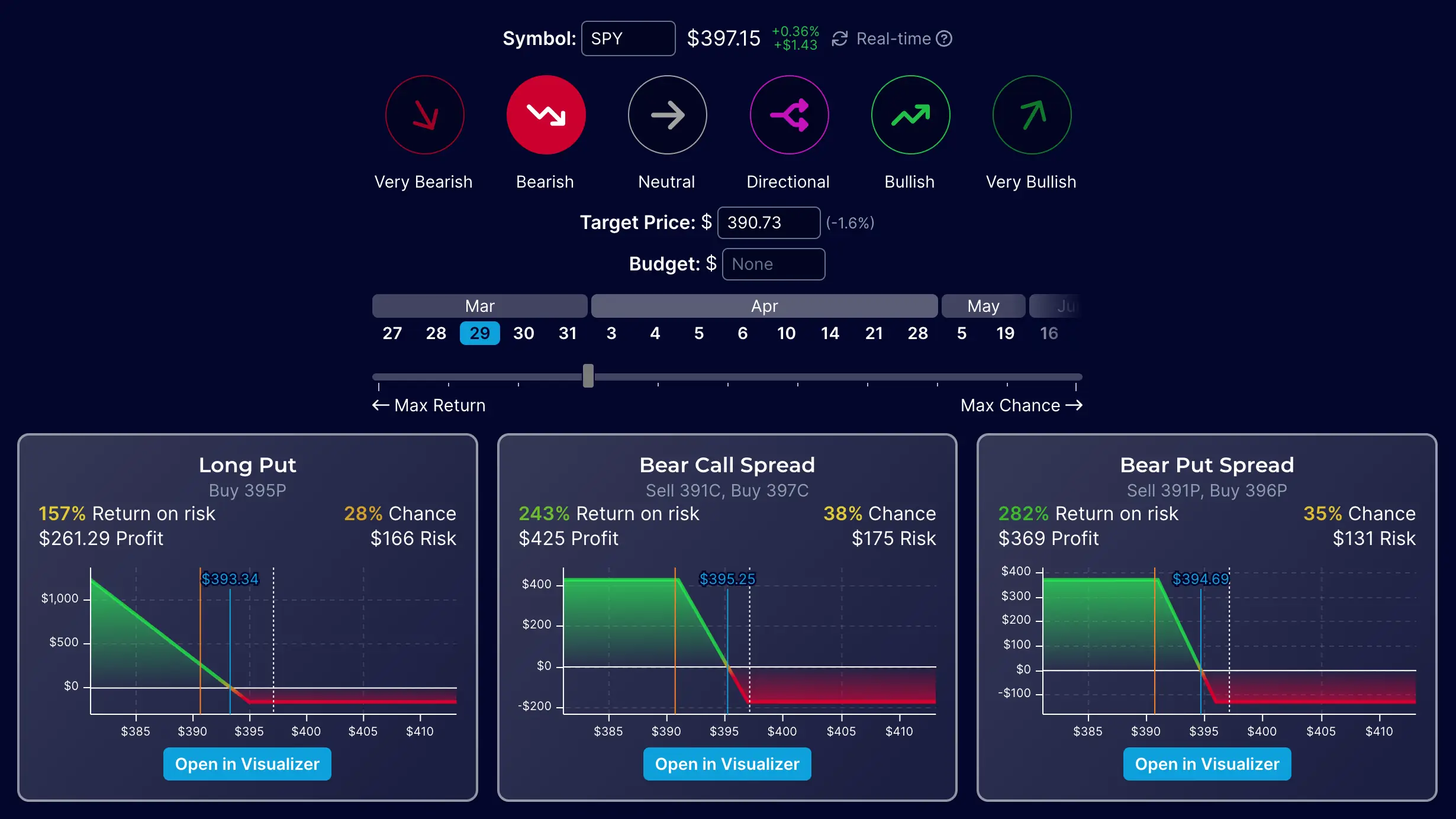 Money tip

Find trades with the highest chance or highest return using our options optimizer. Just enter the direction you think the stock will go, and we will search thousands of trades to find them for you.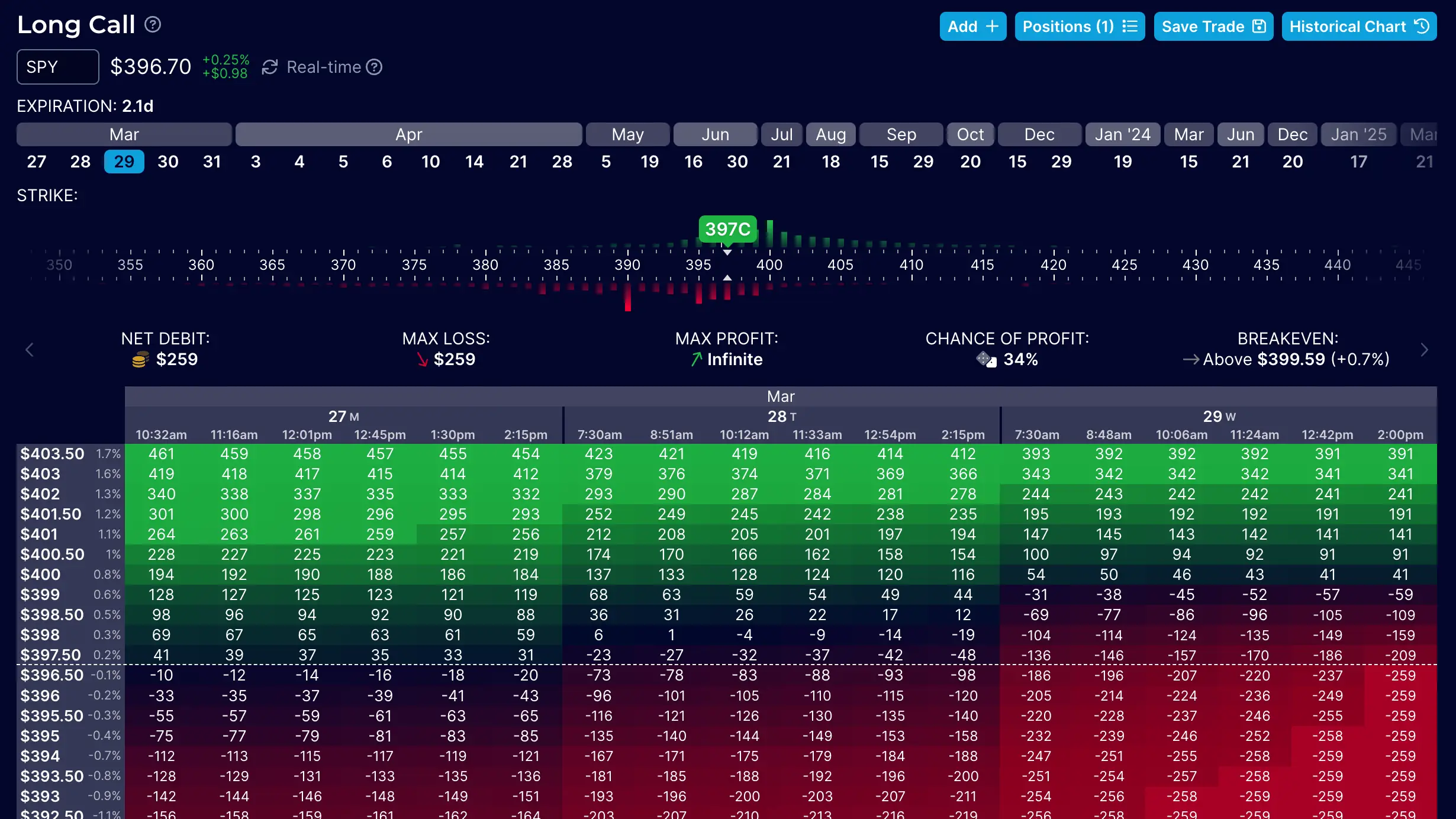 Money tip

Our options profit calculator predicts the future performance of your option strategies. Easily build and compare strategies to find what works for you.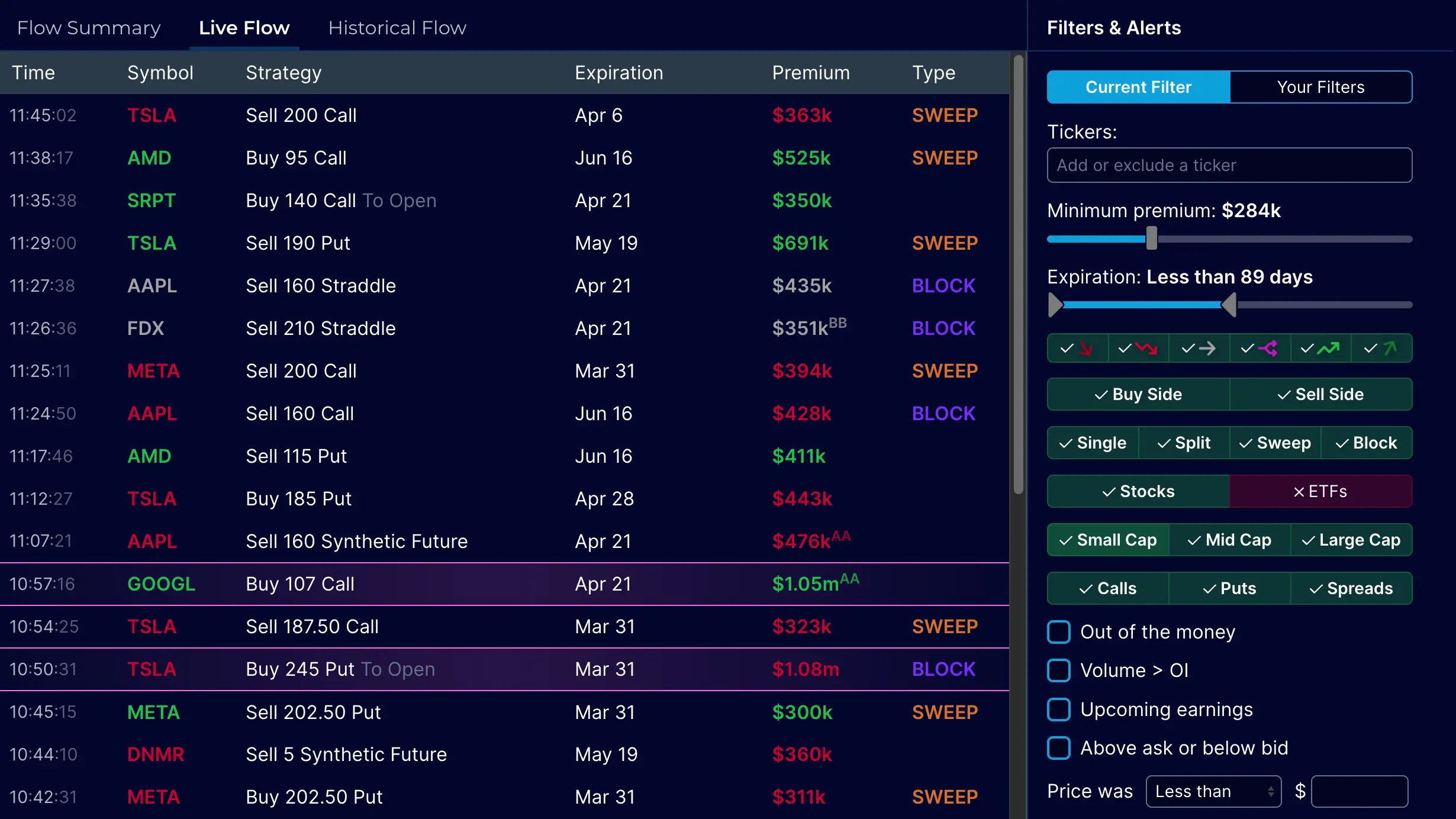 Money tip

The flow page shows large and unusual trades as they are being made. These are real trades made by professional traders and institutions.
Everything you need to go from good to legendary in one place
Enhanced Real-Time Flow
The only provider of unusual options flow for complex strategies. We scan the market to uncover real trades that professionals, congress, and company insiders are making.
Customizable Filters & Alerts
Set up custom filters to find trades matching your criteria. Add alerts to instantly be notified the second a matching trade is made.
Powerful Options Profit Calculator
Our strategy builder helps you instantly visualize the expected profit and loss for your strategy. Never trade in the dark again.
Trade Optimization
Not sure where to start? Simply give our optimizer a target date and price and we'll scan thousands of potential trade to find something for you.
Performance Tracking
Save trades to your account to see how they perform, without risking real money. We track the performance of each trade over time.
News & Insights
Our tools pack in relevant information for your trades, including breaking news, important upcoming dates, and helpful liquidity reminders.
Explore these and other powerful features as you grow
Explore All Features
Unsurpassed Data Quality and Speed
To provide you with unerring accuracy, especially with unusual options activity for complex strategy types, OptionStrat calculates and charts trades using data provided exclusively by the Options Price Reporting Authority (OPRA). That means OptionStrat gets the same data that your trading platform does, including consolidated last sale and quotation information. Data lags by only 15 minutes for free users. Premium accounts receive live auto-refreshing data.
Start a free trial today:
Live Flow
Unlock all features of our unusual options flow, plus everything in our other plans.
Live options flow
See all trades without any delay.
Save custom filters to highlight trades that match your criteria.
Enable mobile and web alerts when trades match your custom filters.
See the high, low, current value, and graph of each alert.
Search through past flow from previous days.
View and filter live market news.
Congress & insider trades
View trades reported by congress and company insiders like CEOs.
PLUS: Everything in the below plans!
Live Tools
Unlock all features of the strategy builder and optimizer.
Live prices
Get current stock and option prices without any delay.
See market events that may affect your trade, including news, earnings, split, and ex-dividend dates.
Volume chart showing the most active strikes for calls and puts.
View the chance of profit and probability distribution in the optimizer and visualizer.
See the combined greeks for multi-leg strategies and greeks charted over time on the table and chart.
Adjust IV per expiration and view IV history
See the high, low, and historical graph of each of your saved strategies. Saved strategies can also be exported.
Add commission fees to strategy calculations.
Private chat
Private Discord group chat with other members
Futures
15-min delayed futures data
Free
Delayed data and limited access to each feature.