Natural Gas Stocks: A Not So Sleeping Giant?
August 24, 2022
-
By Brett Friedman, OptionStrat Contributor
The European energy situation is driving up natural gas to prices not seen since 2005 and 2008.
Consequently, certain natural gas related stock options could be excellent opportunities when viewed in relation to their implied volatilities, which have remained range-bound or mildly elevated.
Adam Neumann, former CEO of WeWork, is living proof of how to get big VC money and become a billionaire: act like an arrogant jerk, convince your wife to do the same, and lose several hundred million of investors' money in former ventures. He just raised $350 million for his latest venture, Flow. No kidding -- read below.
---
Last week, I discussed the ongoing and intensifying energy crisis unfolding in Europe. Needless to say, with EU officials talking about rationing natural gas, the upcoming winter is going to be "interesting," to say the least. If you're thinking about going on a winter European vacation (and with the Euro finally below parity, it's a pretty good deal!), bring a good coat -- you might need it indoors.
Most Americans don't keep track of natural gas prices, so the developments in Europe go largely unnoticed by most stock investors. However, they should pay attention to the current situation. With Europeans scrambling for energy supply (LNG), they are competing against other regions trying to do exactly the same thing at exactly the same time. The net result is that European and domestic natural gas prices are going berserk and that stocks associated with them, e.g. natural gas producers, are doing the same, albeit to a lesser extent. Some of them present excellent opportunities from an options standpoint (i.e., good combinations of potential price action compared to current options pricing and implied volatility). Let's take a look at a long-term chart of natural gas futures and then some stocks that could benefit from it.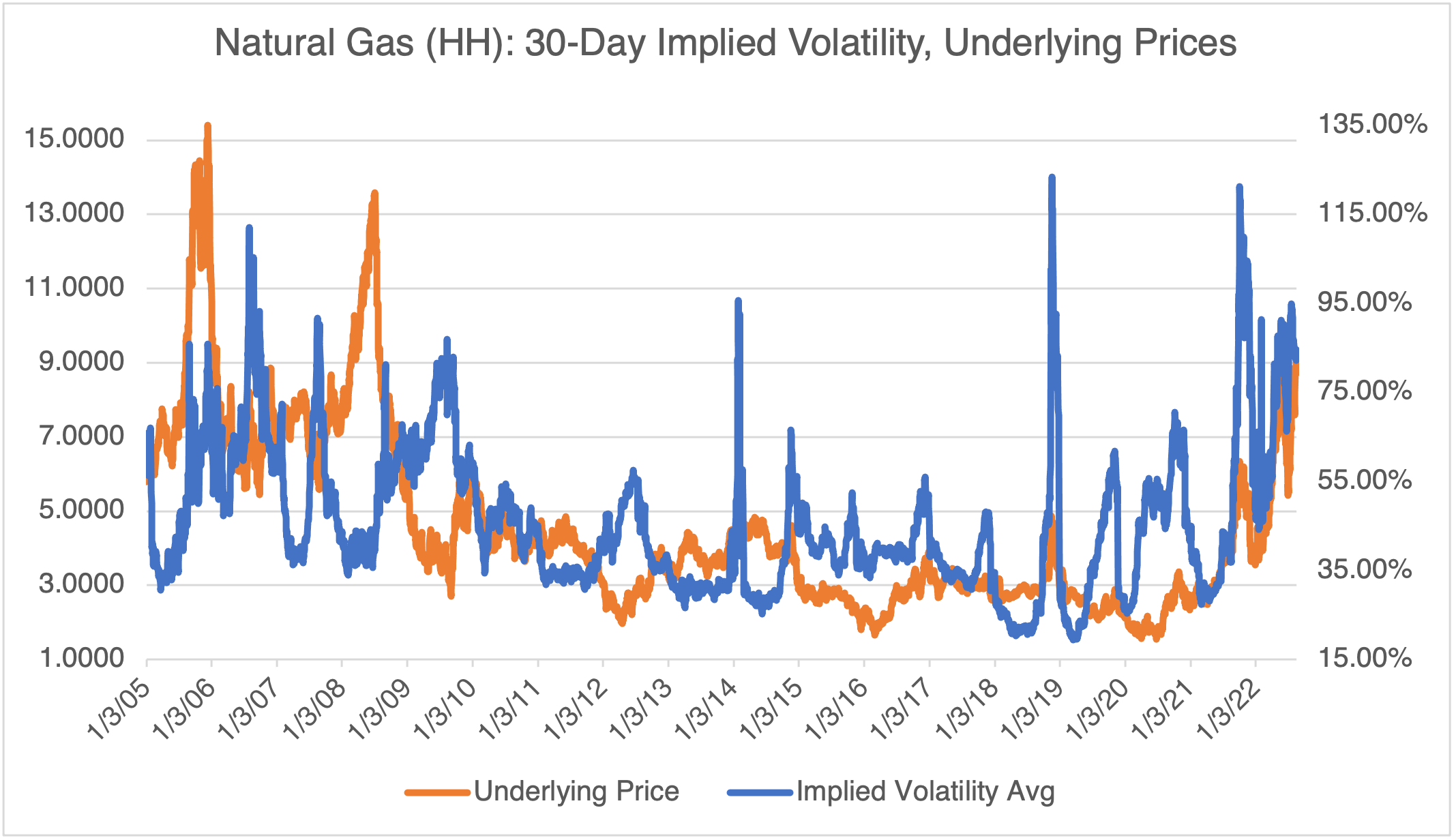 As you can see, you would have to go back to 2008 to find its current level of about $9.25. Its implied volatility is running in the low to mid 80% region, reflecting the uncertainty of the situation in Europe. A bad hurricane season in the Gulf could exacerbate an already tight supply situation. In that case, history tells us that natural gas certainly has the potential to challenge its all-time highs north of $15 reached in 2005.
Now let's review a few selected natural gas stocks that could possibly benefit from all this: Range Resources (RRC), Antero Resources (AR), EQT Corp. (EQT), and Williams (WMB).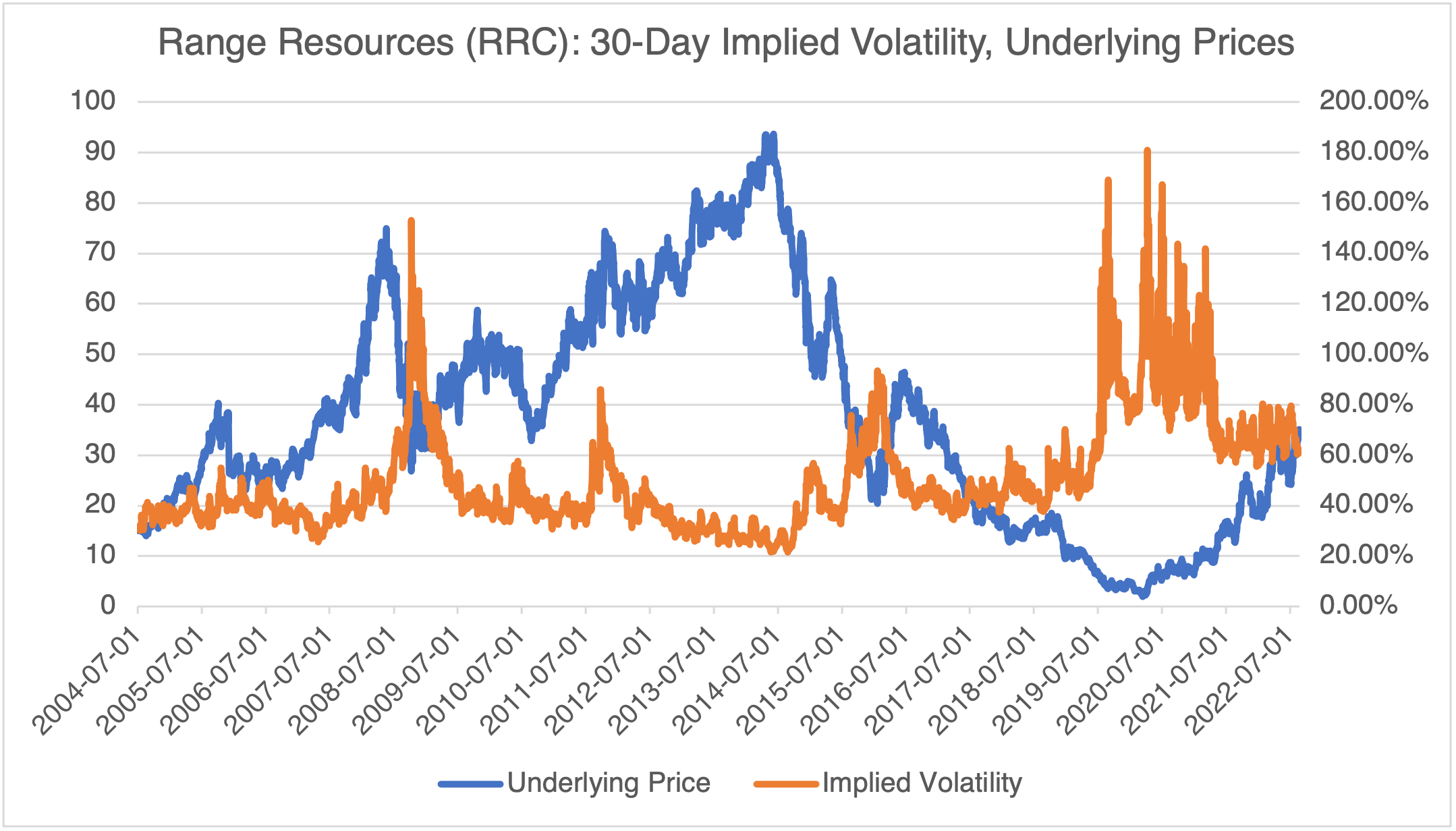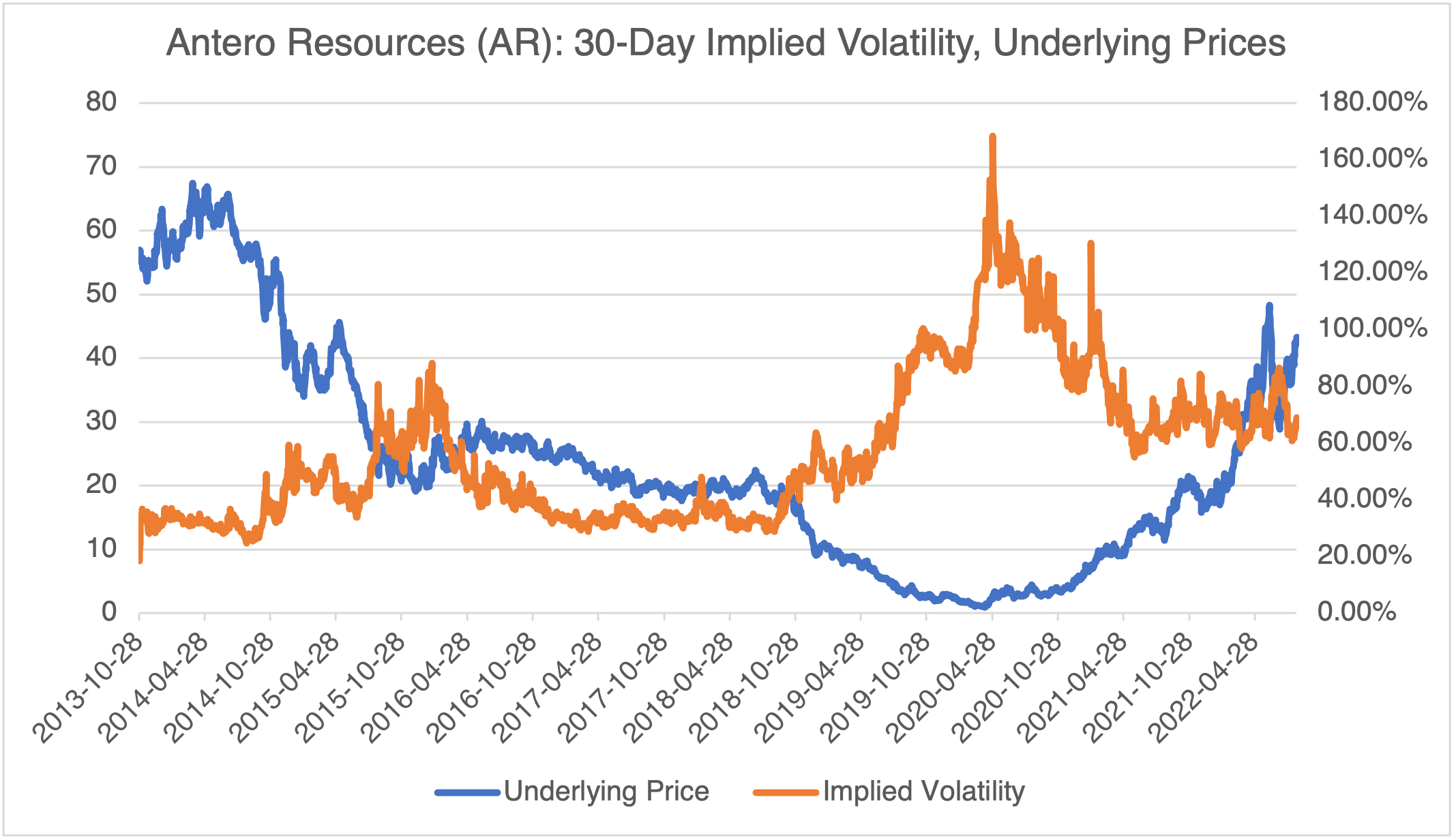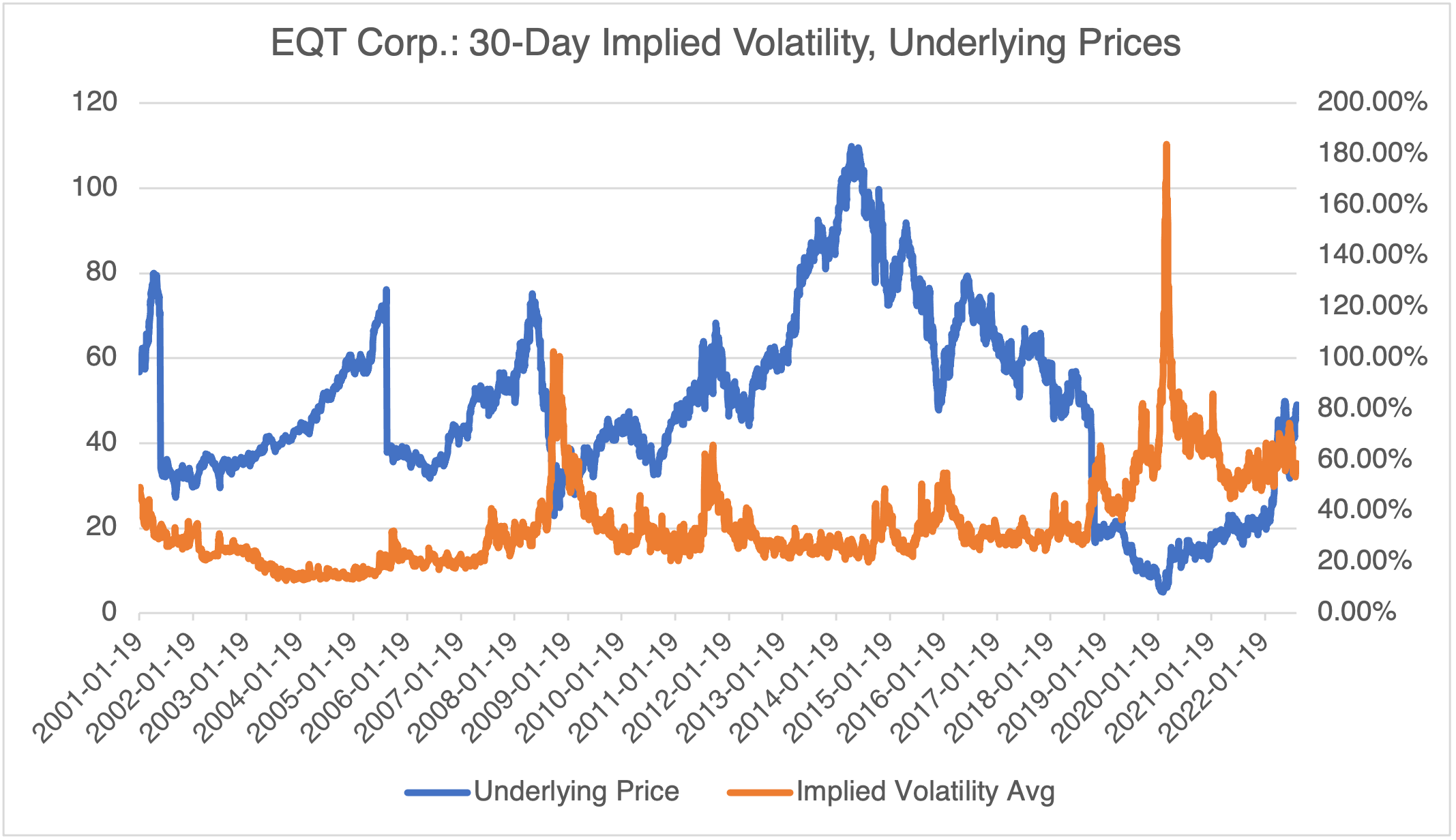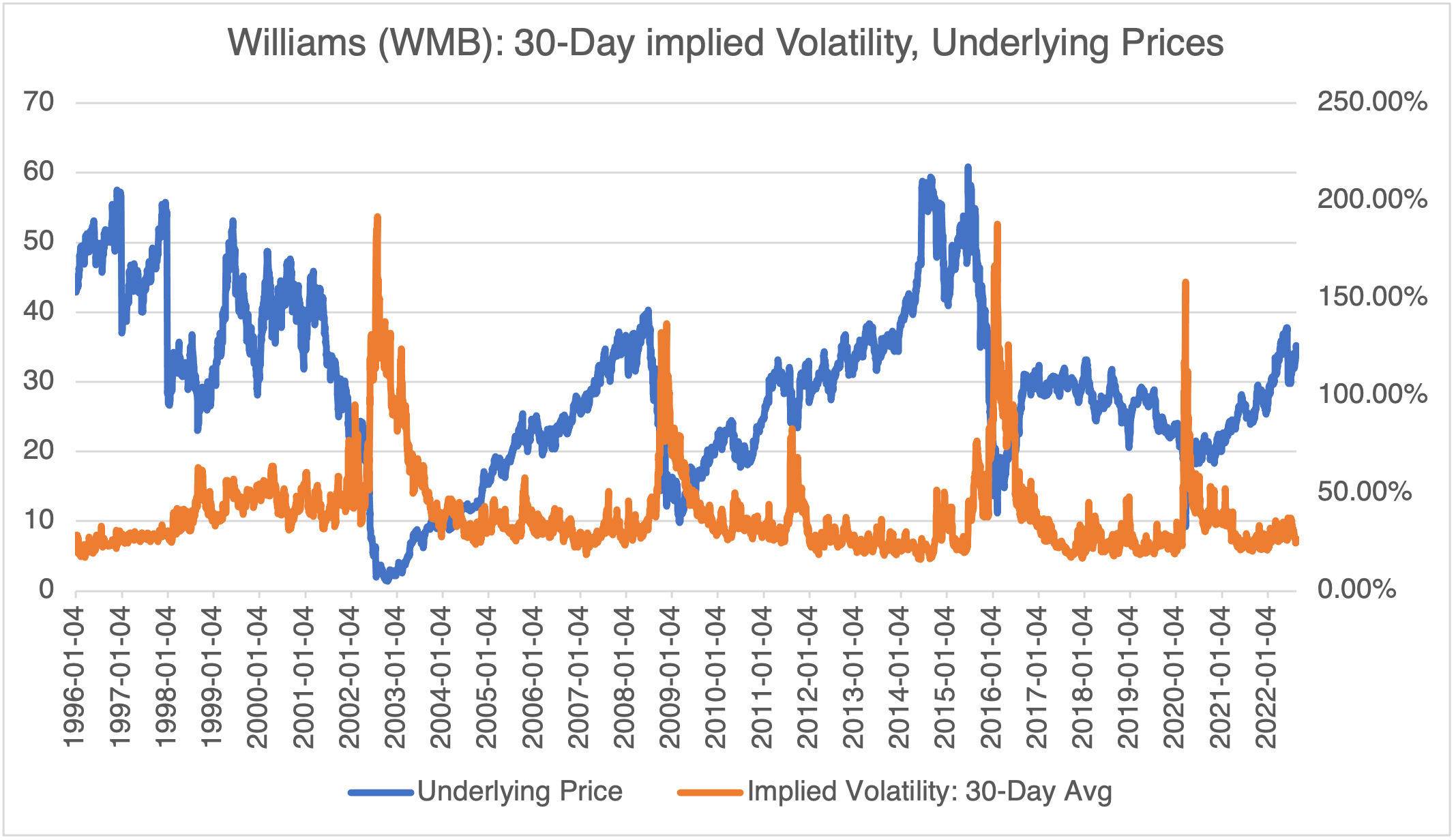 As you can see, prices for all these natural gas stocks have rallied significantly, but their implied volatilities have remained relatively low or mildly elevated. Their options are therefore relatively inexpensive when viewed on a volatility basis. Given the situation in Europe and the upcoming hurricane season, significant decreases in implied volatility seem doubtful. On the other hand, the potential for a sudden spike in price and implied volatility due to a sudden worsening of the situation seems possible. Given all this, and if you believe that natural gas has further upside potential that will benefit these stocks, option strategies that benefit from an increase in price and are long volatility seem to be the ticket.
No Justice, No Peace!
A trading boss of mine once said, "On Wall St., sign doesn't matter, just size." At the time, I didn't really know what he was talking about. But now I do: if you lose several hundred million, people are impressed that someone trusted you enough to allow you to do it. Then they think, "Huh, he must have learned a lot. Next time he'll hit it out of the park!" and give you even more. The saga of Adam Neumann, the former CEO of WeWork, makes all this crystal clear. I think he holds the indoor record for burning through the most investor money while making himself richer than any other "visionary" from Silicon Valley. His latest venture, Flow (as opposed to FlowCarbon, his second-to-last gig), is a mysterious residential real estate start-up that got $350 mm in funding from Andreessen Horowitz, their largest start-up funding ever. Marc Andreessen then penned a letter to the world extoling the virtues of Mr. Neumann as well as his thoughts on the future of residential real estate. Key takeaway: if you are looking for significant VC funding for your second great idea, you should have treated your previous investors like dirt, burned through their money as fast as possible, and said a lot of crazy stuff. Only then will they give you money to do it all over again. And, by the way, never, ever admit that you were wrong.