LNG, Again
April 19, 2023
-
By Brett Friedman, OptionStrat Contributor
Being a commodity and energy guy, one of the companies that I follow regularly is Cheniere Energy (LNG). I've written about them frequently, most completely last September in Europe. Bring a Good Coat, Maybe. If you're not into rereading old blogs, suffice it to say that Cheniere is the largest US producer of liquified natural gas (i.e., LNG -- confusingly, also Cheniere's stock ticker). LNG -- the stock and the commodity -- was thrust into the limelight last fall and winter during the European energy crisis. As you may remember, Russian imports made up about 45% of Europe's natural gas supply. When they were curtailed as retaliation for war-related sanctions, European natural gas and power prices shot into hyperspace. In a classic combination of inelastic supply and demand, Europe was suddenly faced with natural gas and power prices five to six times their levels in the US (for context, imagine getting a utility bill that is over five times what you usually pay).
Since pipeline gas was no longer readily available, Europe turned to liquified natural gas as an alternative energy source. Cheniere was in the right place at the right time. Its stock had been rallying since the beginning of Covid on the back of higher domestic natural gas prices, and the war added fuel to the fire. From just under $30 in March 2020, it peaked out at almost $180 by last November. Since then, a mild winter, global supply adaptation, and increased LNG imports came to Europe's rescue and abated the crisis (until at least until next winter). Coupled with loose supply, domestic natural gas prices have plummeted from $7.6 at the end of last November to almost $2.0 earlier this month.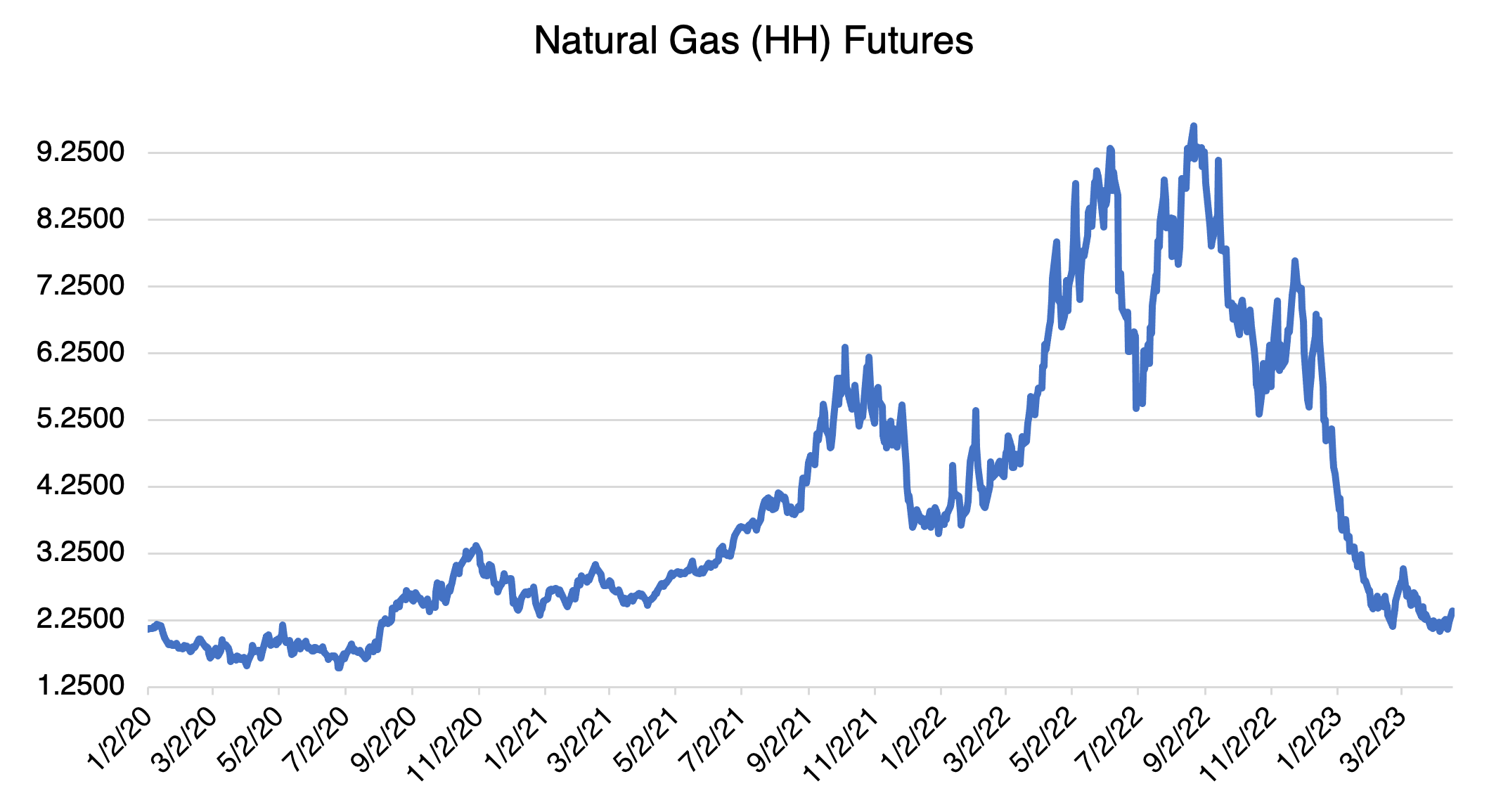 European natural gas prices have shown a similar downward trend:
Dutch TTF Natural Gas Futures, Winter 2023

Consequently, and since Cheniere is obviously highly correlated to foreign and domestic natural gas prices (below), the stock has come off its highs reached last November. Since then, it has been moving sideways, trading between $140 and $165 since the beginning of the year. However, and as you can see below, the stock's decline has not nearly matched that of natural gas. I suspect this will be the case until the fundamentals of the upcoming European heating season (fall and winter, 2023/2024) become clearer. LNG's implied volatility reflects this and has been broadly coming off to the low 30% region since trading in the mid-40s last Fall. For options traders, this could be an opportunity to short LNG straddles or strangles through the summer. After that, however, I suspect LNG will find its direction and move out of its current trading range.