Introducing OptionStrat Flow: Unusual Options Activity Like Never Before
March 18, 2021
-
By Heath Milligan, OptionStrat Founder
The launch of OptionStrat Flow is finally here! Our powerful new unusual options activity scanner is now out of beta and ready to take your trading to the next level. Our proprietary algorithm is the first on the market to scan for complex strategies in addition to simple calls and puts. This enhanced options flow as we call it allows you to follow even more trades that would otherwise go unnoticed.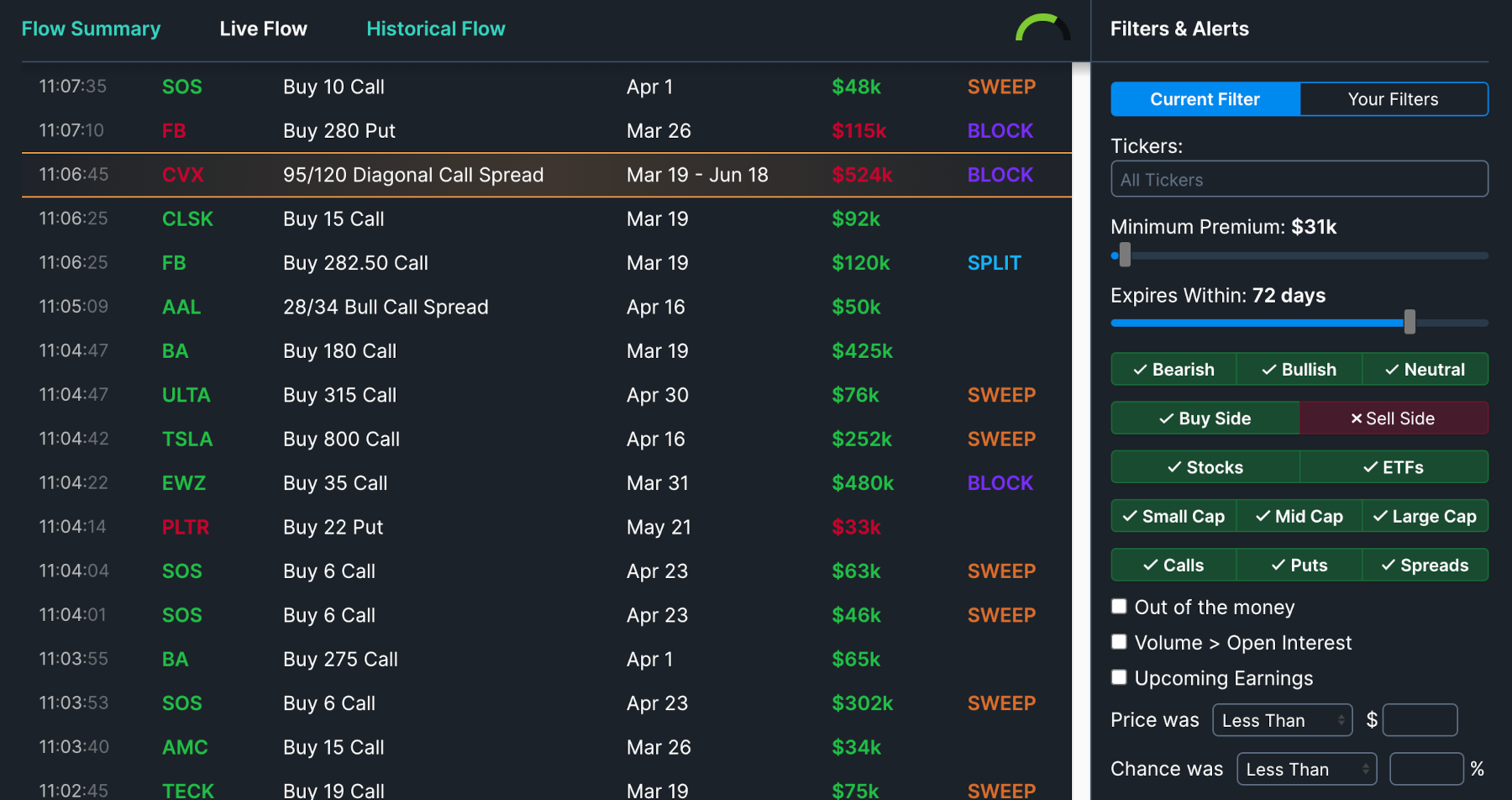 What is options flow?
Options flow is a tool to give you an inside look at how institutions and other powerful traders are trading. It analyzes every trade on the market as they are made to find large and unusual trades that are worth watching. We give you these trades in an easy to use format so that you can see for yourself what the "smart money" is up to.
Oftentimes these big trades are actually split into multiple smaller trades which could go unnoticed. A large order is likely to be executed against multiple other pending orders, or even across multiple exchanges. This helps the trader by keeping a low profile but also filling the trade with a sense of urgency. OptionStrat consolidates these trades to detect when a trade is likely to be a part of a larger trade or strategy.
How is this useful?
These traders are dropping hundreds of thousands, even millions of dollars on a trade. Surely they know something that other's don't. This can help us retail traders in a few areas. Have a trade you want to enter? Check the recent flow to see the sentiment based on unusual options activity. If the smart money has the same idea as you, it can be a signal that your idea is worth trying. You can also take a look at the flow summary dashboard, which shows the volume of the top stocks with unusual activity for the day. You can filter this and use it to identify active stocks that could be good for day trading. For example, use the small cap filter to find the small-cap stocks with the most options activity. If a lot of flow is coming into a symbol, it could also mean it's primed for a breakout or reversal that institutions are expecting.
What tools does OptionStrat provide?
Daily Summary
The daily summary provides an overview of bearish and bullish flow. This is a list of stocks which have the most unusual options activity for the day, ordered by dollar volume. Use this to find trending stocks or quickly go to a popular symbol.
Live Flow
We provide live flow for subscribers and 15-minute delayed flow for other users. This is the heart of OptionStrat flow and shows you the trades as they are made. OptionStrat can identify many different strategies, including complex multi-leg strategies, but most flow will still be simple calls or puts.
See our unusual options flow tutorial for explanations behind all of the colors and flow types.
Historical Flow
Similarly, subscribers to our live flow plan can view flow from a historical date range.
Flow Details
Simply click any flow item to see more details about it, such as the specific legs that make up the strategy as well as stats including volume, open interest, spot price, and more.
We also track the performance of each alert, so you can see the current performance as well as the maximum profit and maximum loss reached so far.
Flow connects to the entire OptionStrat toolkit, so you can click "Open in Visualizer" to open the trade in the strategy visualizer/builder for further analysis.
Filters
We provide many filters that allow you to instantly narrow down the displayed flow by symbol, market cap, sentiment, price, and more.
There are also some pre-made filters that can serve as inspiration. Click on any filter in "Your Filters" to apply it.
Subscribers can save their filters for later use and customize the color to highlight matching entries.
Alerts
Subscribers can also enable alerts for saved filters. This works on both the web and our mobile apps, delivering web notifications while the tab is open, or push notifications even when the app is closed. Simply save a filter and get notified when matching unusual options activity occurs.
How much does it cost?
OptionStrat flow provides a free tier with delayed data and a subset of features that are available to everyone (even without an account). You can upgrade for $50 per month to receive live flow data and get access to all features like filters, alerts, and performance tracking. A flow subscription also includes access to our other tools including the options profit calculator and options optimizer at no additional cost!
Click here to try OptionStrat Flow now!