Covid is Over?
April 25, 2022
-
By Brett Friedman, OptionStrat Contributor
Apparently, a federal judge in Florida has decided for all of us that the pandemic is officially over. Glad to know it, but as anyone that has been following Covid-related stocks (see PayPal, Meta, Moderna, Shopify, etc.), the market decided this some time ago. But Netflix fell down an elevator shaft last week and now it seems to be the poster child of the end of the Covid era and the stay-at-home craze.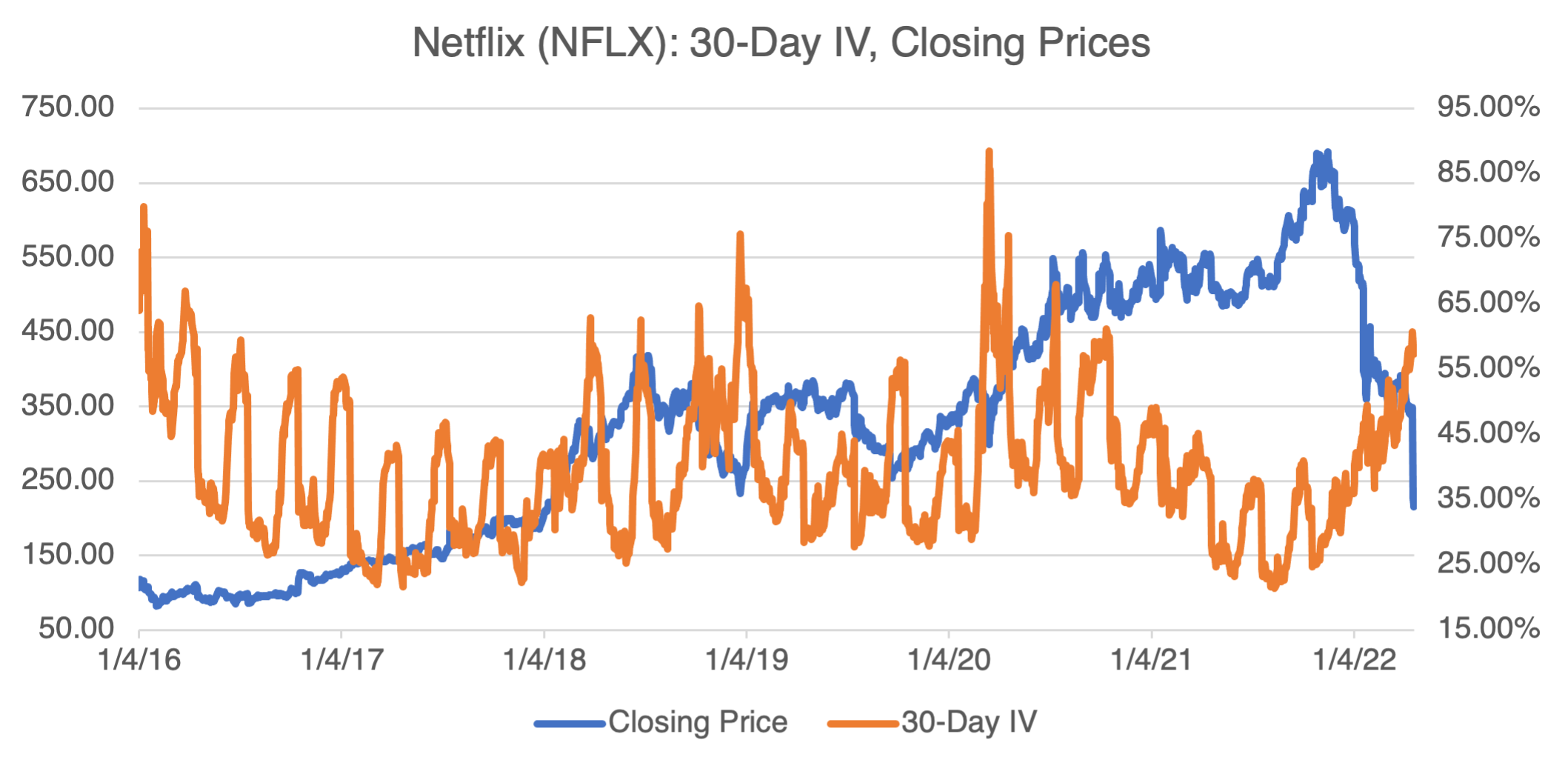 And, despite what the press says, it hasn't been that sudden. It started the year out at very close to $600 and was down to about to $350 before its latest plunge, 42% down YTD. That's impressive, but not as much as some of its Covid-boosted brethren (Shopify (SHOP) is down about 66% YTD!).
But back to Netflix because it's a great illustration of something you have to keep in mind when trading options. When Netflix shocked the market with lower subscription numbers (and btw, for all the shouting, they were only down 0.09%), its price fell about 40% but, surprisingly, its implied volatility (IV) remained relatively constant at about 58%. That's because its IV had been moving up since the beginning of the year, and was already at elevated levels before the subscriber announcement. As a matter of fact, it's been above 60% only a few times since 2016 (see chart 1). Implied volatility should remain high as long as NFLX is on the defensive, making options relatively expensive. It will only decline if the stock recovers or consolidates, both unlikely prospects in the short term. Again, uncertainly rules implied volatility, and by extension, relative options pricing.
Twitter. Enough Already!
And then there's omnipresent Twitter. On the face of it, this is one of those classic Wall St. stories that comes along every few years that pits a high-profile investor against some hapless company that didn't see it coming. But think about it more deeply, and you come to realize that this isn't just a fight about money (although that's certainly front and center!), but about dominating the high ground, which in this case is social media. Elon Musk, like other tycoons from previous eras, is a master at manipulating his image and public opinion to advance his interests. It follows that buying Twitter is then his attempt to fully control the means by which he communicates. In other words, he's vertically integrating his life. So just in case you can't get enough of him, get ready for even more Elon, all the time.
One should be careful if trading TWTR options. Current implied volatility has jumped to over 80% due to the uncertainty surrounding the acquisition. Apparently, it seems like a resolution is imminent, possibly as early as today (Monday). Since uncertainty drives implied volatility, one would expect it to decline once Musk prevails and the dust settles down. Those long option positions (and hence implied volatility) should take note.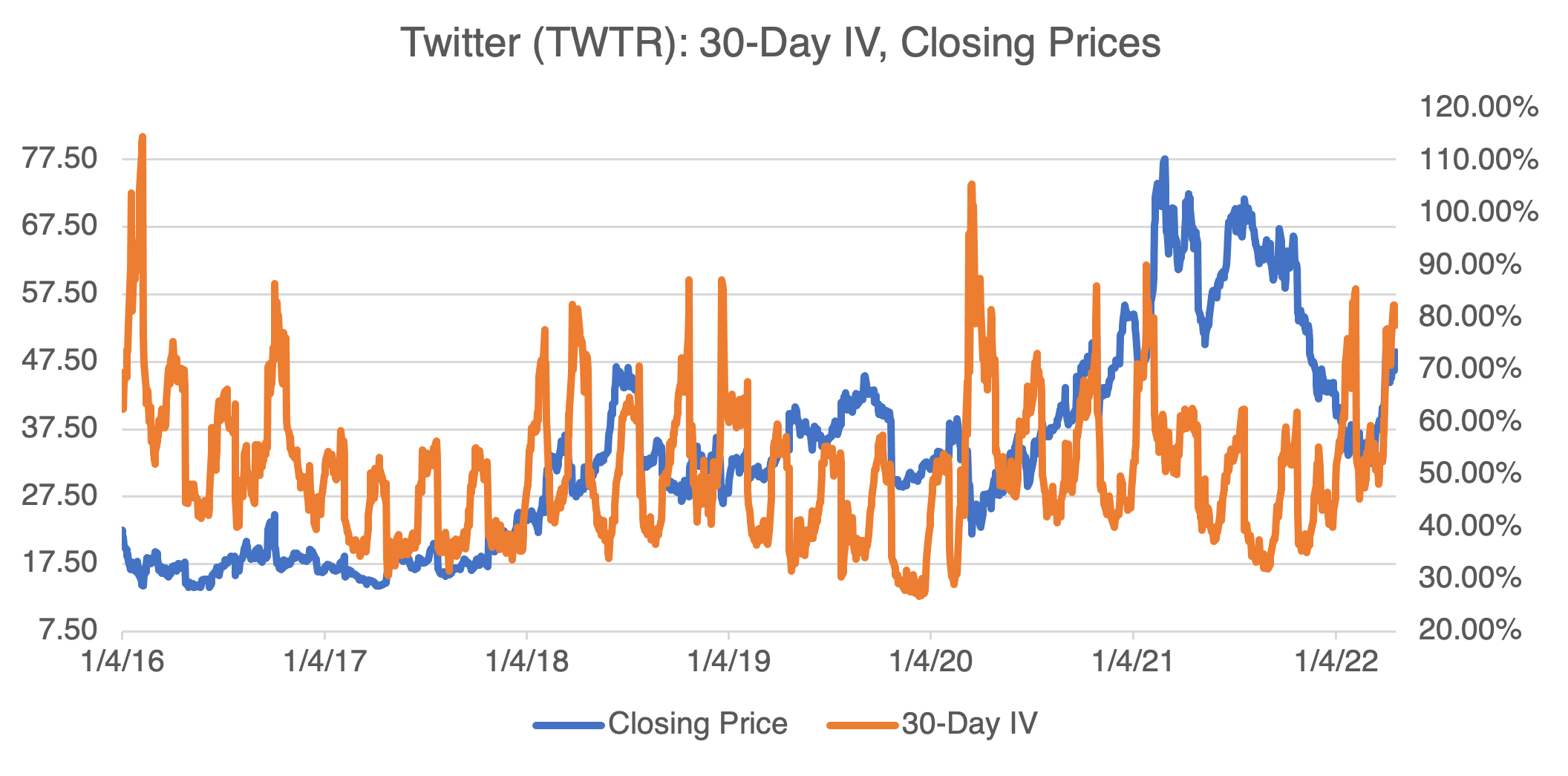 Seriously?
I don't mean to get political, but the WSJ article (U.S. Withholds Sanctions on a Very Close Putin Associate: His Reputed Girlfriend, April 25) about Putin's girlfriend, the ex-gymnast, is great. I highly recommend it. She's something right out of Hollywood central casting: the Russian Oligarch Girlfriend. The fact that the US is even debating sanctioning her is really kind of surprising.